Hot desking is not a new phenomenon but with many employers continuing the hybrid work model into 2023, it has become a popular way to manage the reduced numbers of employees in the office.
What is Hot Desking?
Hot desking, or desk hoteling, is an open plan office concept where the number of desks is lower than the total number of employees. Employees are not assigned a desk, but either choose an available desk when they arrive onsite (hot desking) or book a desk online in advance (hoteling).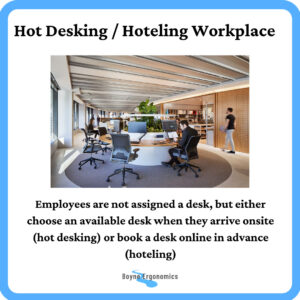 Why Are Companies Choosing Hot Desking / Hoteling Offices?
Hot desking can be an attractive option for employers looking for an office based solution to the hybrid and remote working model. 
Realistically, in the current environment, I feel this is the main benefit and reason behind the move to a hot desking office and it makes financial sense. Why have 100 desks if only 30 people are coming in on any given day?  
It can be more cost effective compared to the traditional assigned desk office as there is less furniture, less IT equipment, lower energy costs and a smaller office footprint, reducing costs of leasing the office space. 
Increased Collaboration and Social Interaction 
In the traditional office, employees are grouped with their teams and peers. This can lead to a lack of interaction with colleagues outside of their immediate area. 
In the hot desking office, employees may be working alongside different colleagues from outside their team on a regular basis. This can increase social interaction, creativity, idea generation, problem solving and knowledge sharing among colleagues that would previously have been seen to be outside their circle. 
With employees sharing desks there is no space for personal items on desks, clothing and shoes under desks and clutter around the office.
Excessive visual stimuli and clutter has been found to negatively impact productivity and so in theory, a cleaner, more minimalist workspace should improve productivity.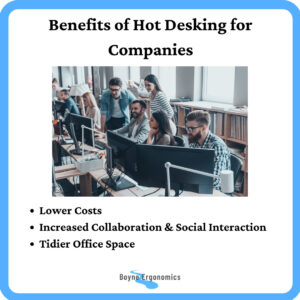 What Issues Are Employees Reporting When Hot Desking?
I am increasingly meeting and assessing employees based in hot desking offices. A lot of these employees have moved from the pre-Covid assigned desk system to the post-Covid hot desk system. 
Anecdotal evidence from hot desking employees is that they are less productive compared to when they had an assigned desk. There are a few different reasons given for this. 
Firstly, they have to get their equipment, adjust the workstation and check that all IT equipment and connections are functioning properly before they start their day. If the workstation cannot be adjusted or some of the equipment is not functional, they need to find somewhere else to work for the day. 
Employees that need additional equipment, such as footrests, have to go looking around the office to source the items they need. 
Secondly, they may be located on a different floor or in a different area than the colleagues they need to work with that day. They may not know where their colleagues are based, at home or in the office, that day and either have to message them or go looking for them to check if they are onsite that day. 
Thirdly, some employees have reported finding the hot desking office disruptive and noisy, based on where they are seated relative to printers, coffee docks and collaborative areas. 
Increased Musculoskeletal Discomfort
Employees that hot desk onsite are reporting musculoskeletal discomfort when based in the office. There are even reports from some employees that the home workstation is more supportive and comfortable than the office! 
A lack of availability of suitable seating for employees with back issues or employees of above average stature can be an issue. As can a lack of footrests and back supports for employees of below average stature. 
Even offices that provide adjustable desks are not immune from these issues, with employees reporting uncertainty regarding appropriate workstation set up and equipment functionality as possible causes of discomfort. 
Difficulty Accessing Accommodations for Employees with Additional Needs
With the loss of a designated workstation, some employees reported that they have lost some of the accommodations they previously had. Others report difficulty accessing the accommodations or are unsure if they can request accommodations due to the company hot desking policy. 
These accommodations may have been the provision of a certain chair, a taller desk or an alternative monitor for employees with musculoskeletal issues or eye strain. They may have included the ability to work in certain quieter areas of the office to accommodate employees with dyslexia, ADHD or ASD or the ability to be located near a bathroom for an employee with MS, IBS, Crohns or colitis
Reduced Sense of Connection to Company 
With most hot desking offices operating a clean desk policy, many employees feel they have lost the personal touch and connection to the company. They miss the ability to have personal items around them as they work.
The need to adjust workstations, check equipment and move workstations as well as the uncertainty of where they or their colleagues will be based each day can mean some employees are stressed before they even log on! 
Some report feeling under more pressure to get certain tasks completed and playing catch up on tasks compared to the days they are based at home.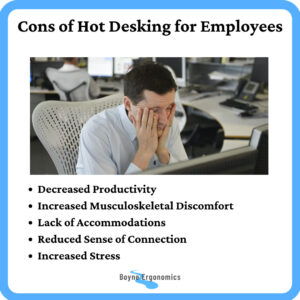 What Can Employers Do To Effectively Manage A Hot Desking Environment?
Planning involves developing the hot desking policy in line with the hybrid working policy. The hybrid working policy will dictate if employees are obliged to attend the office for a certain number of days per week or if it is discretionary. This will have an impact on how many desks each office will need. 50% of total employees based in that office is a good guide but companies may need more or less based on the hybrid working policy. 
Hoteling Over Hot Desking
Hoteling allows employees to book their desk in advance, with some booking programmes allowing desks to be books for weeks in advance. This removes the stress of finding a desk when you arrive and frequent changing of work location.
Employees can book preferred desk locations and teams can book to be in the same area when required. It also reduces the likelihood of employees arriving onsite and not being able to source an available desk. 
Research different booking systems to find the right one for your company. 
Provide Employees With Secure Onsite Storage 
This will allow employees to store any items they need for the office in the office, reducing the need to bring them in and out of the office daily. 
This can include personal and work items as well as any specialist equipment that may be required. 
Provide Easy Access To Equipment Manuals
The operation manuals for desks, chairs etc should be easily available for all employees so they know how to adjust the equipment to meet their needs. All employees should be advised on where to find them. 
Clearly Identify Location Of Workplace Accessories
All employees should know where to find additional accessories that they may require, such as footrests, support cushions etc. 
Provide Private / Quiet Areas
In open plan and hot desking offices, it is important to provide designated private and quiet areas for employees that need to take private calls or need to move from their desk to focus on a particular task.
These are usually in the form of call rooms and small meeting rooms. 
Provide Collaboration Areas
Similar to quiet areas, there is a need in the open plan and hot desking offices for collaboration space and rooms. This is to provide a meeting place for teams that may be dispersed throughout the office and need to meet face to face. 
Collaboration areas and rooms allow for group work, with minimal disruption to colleagues in the surrounding work areas. 
Companies need to understand that there may be some employees that should be assigned a particular desk, in a particular location when they are in the office. This is to accommodate additional needs that may be present. This can be managed via the booking system if using one, or by simple signage on the desk to advise other employees not to use it. 
Risk Assessment & Training
All employees should be trained on how to correctly set up their DSE workstation and have the workstation assessed by a trained assessor. Along with ensuring companies are fulfilling their legal obligations, this will help employees identify the appropriate positioning and ensure they know how all their equipment can be adjusted. 
Self assessment, although a useful training tool, does not constitute an appropriate risk assessment.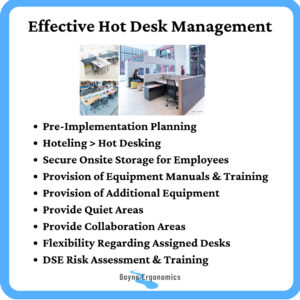 A company can assess if their hot desk or hoteling policy is being implemented successfully by tracking office occupancy rates, employee and management feedback. Low occupancy rates, reports of employee discomfort, stress and reduced productivity are signs that there may be adaptations to the policy needed.