As we roll into 2023 with the new year, new me attitude, it is the perfect time to take stock of your home workstation to ensure it is functional, suited to you and your tasks and fit for purpose. 
The last blog post outlined the importance of posture and what the ideal DSE workstation posture is. In this blog post, I have compiled a guide to ensuring your home workstation is set up to allow you to achieve these postures and optimise productivity! 
So where do you start!?
The Workstation Environment
Where have you set yourself up in the home? 
If you are in a dedicated spare room / home office
Make sure you have adequate space to move around without tripping over cables and other home debris
Check your monitor for glare. Turn the monitors off and sit in your usual work position. If you see areas of glare on the screen, identify the source and take steps to remove / reduce the glare. These steps may include repositioning the desk or changing monitor position to reduce glare from a window, light or mirror. 
Make sure the room is adequately heated and ventilated so it is comfortable all year round!
Make sure you have enough lighting in the room. The recommended light levels for a DSE workstation is between 300-500 lux and most home workstation I have assessed are below the minimum level. If your ceiling light is a standard bulb, consider changing it to an LED light fitting. If this is not possible, use additional lighting to luminate the room and work area, such as ambient floor lamps, adjustable desk lights, ring lighting and strip lighting. 
If you are in a shared common area, eg the kitchen table
Assess the home for alternative areas to set up a small dedicated work desk. You do not need a full size office desk at home, it just needs to be big enough to accommodate your laptop and peripheral devices. 
Be mindful of potential trip hazards as this risk may vary during the day
As above, check your monitor(s) for glare and adjust position or remove source of glare where possible
Ensure you have appropriate peripheral equipment for use with the laptop, eg laptop stand, keyboard and mouse at a minimum.
The Work Surface and Seating
Next up is the skeleton of the workstation, the work surface and chair. 
The work surface
The work surface should be stable, with clearance space for your legs underneath, enough clearance space for your thighs under the work surface and have adequate surface area for your essential equipment. 
There can be a wide variation in desk heights available and the best height for you will depend on your stature. 
If your knees are higher than your hips when your elbows are level with the work surface, then the desk is too low for you. You can compensate for this by using wood / risers under the desk to increase the height. 
If you cannot plant your feet on the floor when your elbows are level with the work surface, then the desk is too high for you. You can compensate for this with a footrest.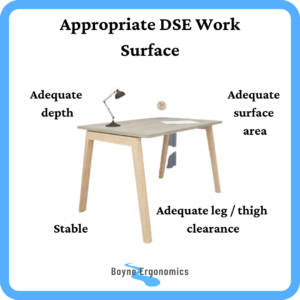 The workstation seating
At a minimum, the work seating should be height adjustable, on a 5 spoke base with castors, with a tilt adjustable backrest and height adjustable lumbar support. If it has armrests, they should be adjustable.
Ensure all the adjustments are fully functional and the seat pan padding is comfortable for you to sit on. 
If the seating is fixed in height, it may not be the right height for you and your work surface.
If the backrest is not adjustable, it may not provide adequate lumbar support for you when seated in the typing position. 
If you do not have an adjustable chair and procuring one is not an option, you can adapt another chair by using additional cushioning / foam supports to increase seated height or increase lumbar support.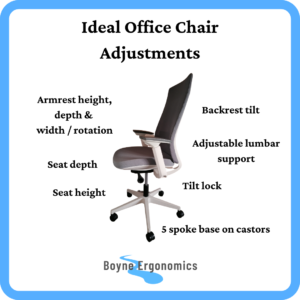 Workstation Monitor(s)
If you are using a laptop as the only monitor at your workstation, it should be elevated on a laptop stand to bring it up the best height for you, allowing you to look at the laptop screen when looking straight ahead. 
If you are using an external monitor, ensure it is the best height for you and positioned directly in front of you.
If you are using a laptop as a secondary monitor, ensure it is elevated on a stand. 
Dual screen positioning is based on how you use them. If you use both screens 50/50, place them side by side, with you in the middle, and angle them inwards.
If you use them roughly 80/20, the main monitor should be directly in front of you, and the secondary screen to the side, angled towards you. If you can, place the secondary monitor on the same side as your dominant eye.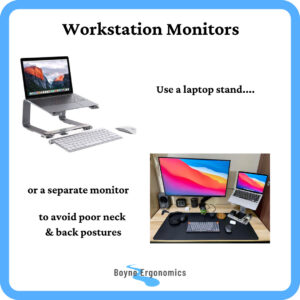 Workstation Peripheral Devices / Accessories  
If you are working from home or hybrid working, it is safe to guess that you are using a laptop as your home work computer. If this is the case, it is so important to use a laptop stand, an external keyboard and an external mouse to reduce the risk of discomfort and long term damage associated with prolonged use of laptops and mobile devices. 
Compact, wireless keyboards are a good option for shared work spaces as they can be easily tidied away into the laptop bag when not in use and also reduce reach distance to the mouse.
A foldable laptop stand can allow for appropriate laptop monitor positioning, while being portable and easy to tidy away.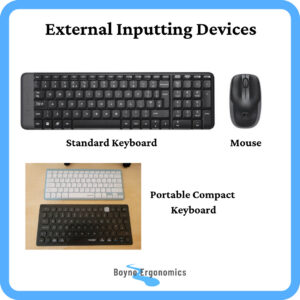 A footrest, foam roller, child's step etc are essential for seated stability if you cannot plant your heels comfortably on the floor. 
A wireless headset or earbuds are great for those virtual meetings when you are working from home as they allow you the flexibility to move from the chair during these calls, while remaining connected.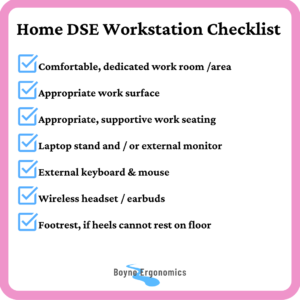 Get your year off the best start by making sure your workstation is set up for success!
For more in depth information that can be used to select the best equipment for your needs, check out my blog posts and podcast episodes about desks, seating, keyboards and mouse devices.