Design and Build:
The Logitech Wave Keys keyboard has a fluid like design, slightly raised at the edges, subtly sloping down and gently back up in the middle of the keyboard.
Its compact layout ensures that it won't dominate your desk space, while the matte finish gives it a modern look, with minimal reflections and glare from the keys.
The keyboard's build quality is excellent, providing a satisfying tactile feel with each keystroke, that is not too loud or "clicky".
The keys are slightly concave, promoting a more natural and comfortable hand position while typing. The three layer palm support provides additional comfort and a more neutral hand position for us non-touch typists.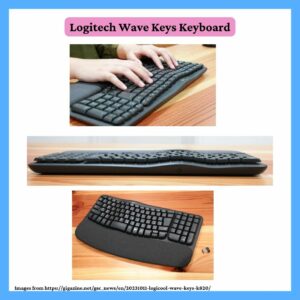 Size:
With the large numbers of employees that I meet with right upper limb discomfort, and a current right shoulder injury of my own, mouse position is something I am conscious about. For users that like to work with a mouse, I try to find keyboards that allow them to operate the mouse, with the wrist in line with the shoulder. The Logitech Wave Keys is narrow enough to allow for appropriate mouse positioning, while still having the digit keys on the right hand side, a bonus for fans of the numeric pad.
This, however, comes with a down side. The keys are quite small. I found for the first few days I was hitting the wrong keys as my hands adapted to the increased accuracy required.
I overcame this issue quickly but I would be concerned that it might not be as easy for users with larger hands.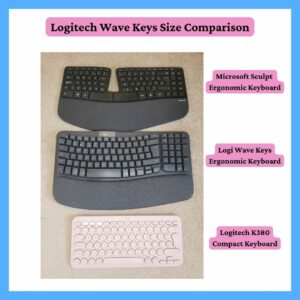 Smart Connectivity:
Equipped with Bluetooth technology, the Logitech Wave Keys keyboard offers hassle-free connectivity with a wide range of devices, up to 3 at a time. Switch between devices with the touch of a button, without needing to repair each time. You can also get a USB Bolt receiver that can be plugged into your computer if you do not want to use Bluetooth. 
Battery Life:
The keyboard is powered by 2 AA batteries. The battery life seems to be pretty good. I have been using it for two weeks now and the battery status is still at 100%.
Customizable Function Keys:
Tailor your keyboard experience to your needs with the customizable function keys. Whether you want to streamline common tasks or access specific shortcuts with a single press, the Logitech Wave Keys allows you to personalise the function keys for maximum efficiency, using the Logi Options + app. 
Cost:
€79.99
So far, I am a fan. I thought I would struggle to find a keyboard I like more than the Microsoft Sculpt for general day to day use but this may be it!